Call Today (706) 894-1919
157 Hodges Street
Cornelia, GA 30531
Posts for: November, 2012
Did you know that Americans spend nearly 3 billion dollars each year on fresh breath remedies including gum, mints and mouthrinses to address their fears of halitosis (bad breath)? This simple fact clearly reveals that Americans are obsessed with having pleasant breath. Some other interesting statistics on this subject include:
60% of women and 50% of men say they use breath freshening products like candy, chewing gum and sprays
50% of middle-aged and older adults have bad breath
25% of the population has chronic bad breath
20 to 25% of adults have bad breath due to their smoking habits
However, the best way to determine what is causing your bad breath is to have a thorough dental exam followed by a professional cleaning. The first important step of this process begins when we obtain a thorough medical history. This includes asking you questions so that we can:
Identify your chief complaint and whether or not your bad breath is noticed by others or just a concern you have
Learn about your medical history as well as what medications (prescription and over-the-counter), supplements, and vitamins you are currently taking
Learn about your dietary history to see if pungent foods such as garlic and onions are foods you often eat that are contributing to the problem
Conduct a psychosocial assessment to learn if you suffer from depression, anxiety, sleep or work problems
Identify personal habits such as smoking cigarettes, cigars or a pipe that contribute to your bad breath
To learn more about the causes and treatments for halitosis, read the Dear Doctor article, "Bad Breath — More Than Just Embarrassing." Or you can contact us today to schedule a consultation for an examination, cleaning and treatment plan.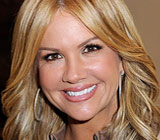 We've all heard of morning sickness, but did you know that it's also not unusual for pregnant women to experience oral discomfort? This is what Entertainment Tonight co-host Nancy O'Dell discovered when she was expecting her daughter, Ashby. In an exclusive interview with Dear Doctor magazine, Nancy described how her gums became extra-sensitive during pregnancy, leading her dentist to diagnose her with "pregnancy gingivitis" ("gingival" – gum tissue; "itis" – inflammation).
"While my dental health has always been relatively normal, pregnancy did cause me some concern about my teeth and gums," Nancy said. "With my dentist's advice and treatment, the few problems I had were minimized," she said.
It's especially important to maintain good oral hygiene during pregnancy with routine brushing and flossing, and regular professional cleanings. This will reduce the accumulation of the dental bacterial plaque that leads to gum disease. Both mother and child are particularly vulnerable to these bacteria during this sensitive time. Scientific studies have established a link between preterm delivery and the presence of periodontal (gum) disease in pregnant women. Also, the elevated hormone levels of pregnancy cause the tiny blood vessels of the gum tissues to become dilated (widened) and therefore more susceptible to the effects of plaque bacteria and their toxins. Gingivitis is especially common during the second to eighth months of pregnancy.
Excess bacterial plaque can occasionally lead to another pregnancy-related condition in the second trimester: an overgrowth of gum tissue called a "pregnancy tumor." In this case, "tumor" means nothing more than a swelling or growth. Pregnancy tumors, usually found between the teeth, are completely benign but they do bleed easily and are characterized by a red, raw-looking mulberry-like surface. They can be surgically removed if they do not resolve themselves after the baby is born.
If you are experiencing any pregnancy-related oral health issues, please contact us today to schedule an appointment for a consultation. If you would like to read Dear Doctor's entire interview with Nancy O'Dell, please see "Nancy O'Dell." Dear Doctor also has more on "Pregnancy and Oral Health: Everything You Always Wanted To Know But Never Knew To Ask."