Call Today (706) 894-1919
157 Hodges Street
Cornelia, GA 30531
Posts for: March, 2013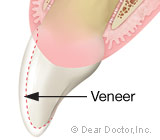 Porcelain laminate veneers are one of the innovative techniques dentistry has developed for restoring teeth to improve their color and shape so that they look as good as or better than the originals.
What are porcelain veneers? Porcelain is a ceramic material that is baked in a high-heat oven until it becomes glass-like. Your grandmother's antique china teacups are probably made of porcelain. Dental porcelains are especially made to perfectly mimic the color, reflectivity and translucency of natural tooth enamel. A veneer is a covering or shell, a false front; dental porcelains can be fashioned into veneers used to restore the enamel surfaces of teeth.
What is a laminate? A laminate is a structure created by uniting two or more layers of material together. Dental porcelain laminate veneers refer to the combination of tooth enamel bonding material and porcelain veneer.
When are porcelain laminate veneers used? Porcelain veneers are used to enhance the color of stained, darkened, decayed and heavily restored teeth. They are also used to: correct spaces between teeth; straighten slightly rotated teeth; correct problems in tooth shape and some bite problems. They can be good solutions for broken teeth or teeth that have been worn by habitual tooth grinding.
What is the process of placing the veneers? Room generally needs to be created to place a veneer; generally requiring about half a millimeter of reduction of tooth enamel. Artistic dental laboratory technicians fabricate veneers. About a week of laboratory time is usually needed to construct your veneers.
How do I know whether I will like the way my new veneers look? Computer imaging can be used to digitally replicate your teeth and create images of the proposed changes. Models of your teeth can be cast and changes can be made in white wax for your preview. Temporary veneers can also be fabricated as a test drive before the final veneers are fabricated.
How long will porcelain veneers last? Veneers can last 20 years or more. They are very strong but like glass, they can break if extreme force is applied to them. You should avoid such activities as opening bottles, cracking nuts, or biting into candy apples with your veneers.
How do I look after my new veneers? Once the veneers are placed, you should continue daily brushing and flossing. There is no higher incidence of decay around them than with your natural teeth. However, the more dental work you have in your mouth, the more vigilant you need to be. Of course, keeping your sugar consumption low helps to protect all of your teeth from decay.
Contact us today to schedule an appointment or to discuss your questions about porcelain laminate veneers. You can also learn more by reading the Dear Doctor magazine article "Smile Design Enhanced with Porcelain Veneers."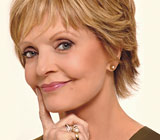 Florence Henderson, star of one of television's most beloved situation comedies, is still actively engaged in a variety of projects at 75-plus years of age. Her bright smile was part of her character as Carol Brady in The Brady Bunch, a popular sitcom that played for five seasons from 1969 to 1974. Though the show was discontinued, syndicated episodes continue to play in the U.S. and 122 other countries.
"I played Carol as the mother I always wished I had," she told Dear Doctor magazine. Her portrayal of mother and wife in a blended family with six children won her the Smithsonian Institution's TV Land Pop Culture Icon Award, which is on display in the National Museum of American History in Washington, DC.
After her successes on Broadway and in television, she was selected for numerous product endorsements, and The Wall Street Journal ranked her #5 in their top ten television endorsers based on viewer satisfaction. One of the products she endorsed was Polident, a brand of denture cleaners and adhesives. However, Henderson has revealed that she has her own natural teeth and does not wear dentures. Her advice to others who want to keep their natural teeth is to pay attention to prevention. "I think the most important thing one can do as with any health issue is prevention," she said. "Flossing, brushing, and regular dental checkups are vitally important if you want to keep your natural teeth."
When she was 22, she says, she had four impacted wisdom teeth removed at the same time. This experience made her aware of the importance of dental care, and since then she has had a checkup every six months. Wherever she travels, she says that she always has mouthwash, dental floss, toothpaste, and a toothbrush on the set.
Contact us today to schedule an appointment to discuss your questions about tooth care. You can learn more about Florence Henderson by reading the Dear Doctor magazine interview "Florence Henderson, America's Favorite TV Mom Has Many Reasons to Smile."