Call Today (706) 894-1919
157 Hodges Street
Cornelia, GA 30531
Posts for tag: common symptoms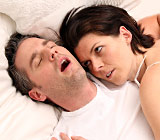 Dentistry has ventured into the new area of sleep medicine by helping snorers — and their exasperated sleeping partners — with custom-made anti-snoring devices. These oral appliances, which resemble orthodontic retainers or sports mouthguards, keep the snorer's airway clear and the bedroom quiet. To see how they work, you have to understand the mechanics of snoring.
Snoring occurs when the upper airway (back of the throat) becomes blocked by the tongue or other soft-tissue structures, such as large tonsils or a long soft palate. The vibrating of these obstacles creates the sound we call snoring.
Snoring is often worse when sleeping on one's back because that position encourages the lower jaw to fall back and the tongue to close off the airway. This is where Oral Appliance Therapy comes in. These custom-fitted devices are designed to keep the upper airway open during sleep by pulling the lower jaw forward, which in turn brings the tongue away from the throat. Dentists, and our office in particular, are the only source for Oral Appliance Therapy.
People who snore should have a thorough examination to rule out Obstructive Sleep Apnea (OSA), a potentially dangerous condition in which airflow can be cut off completely for 10 or more seconds ("a" – without; "pnea" – breath), reducing blood-oxygen levels. Chronic, loud snoring is a common finding with OSA.
Please remember that sleep is an integral part of health and well-being. In fact, we spend about a third of our lives doing it. If you are snoring or have any sleep-related breathing disorders that are waking you or your bed partner, be sure to tell our office. There are plenty of examples of the havoc wreaked by sleep-deprived individuals. Remember the Exxon Valdez?
If you have any questions about Oral Appliance Therapy, please contact us or schedule an appointment for a consultation.
To learn more about the topic of oral appliance therapy, please see the Dear Doctor magazine article "Sleep Disorders & Dentistry."
Did you know that Americans spend nearly 3 billion dollars each year on fresh breath remedies including gum, mints and mouthrinses to address their fears of halitosis (bad breath)? This simple fact clearly reveals that Americans are obsessed with having pleasant breath. Some other interesting statistics on this subject include:
60% of women and 50% of men say they use breath freshening products like candy, chewing gum and sprays
50% of middle-aged and older adults have bad breath
25% of the population has chronic bad breath
20 to 25% of adults have bad breath due to their smoking habits
However, the best way to determine what is causing your bad breath is to have a thorough dental exam followed by a professional cleaning. The first important step of this process begins when we obtain a thorough medical history. This includes asking you questions so that we can:
Identify your chief complaint and whether or not your bad breath is noticed by others or just a concern you have
Learn about your medical history as well as what medications (prescription and over-the-counter), supplements, and vitamins you are currently taking
Learn about your dietary history to see if pungent foods such as garlic and onions are foods you often eat that are contributing to the problem
Conduct a psychosocial assessment to learn if you suffer from depression, anxiety, sleep or work problems
Identify personal habits such as smoking cigarettes, cigars or a pipe that contribute to your bad breath
To learn more about the causes and treatments for halitosis, read the Dear Doctor article, "Bad Breath — More Than Just Embarrassing." Or you can contact us today to schedule a consultation for an examination, cleaning and treatment plan.